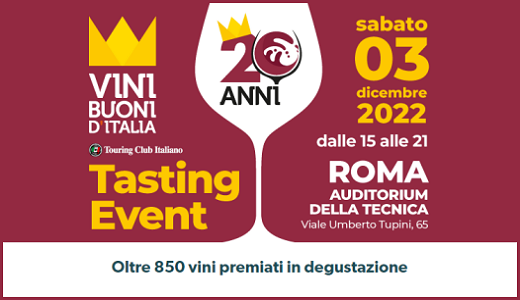 Presentation of the 2023 Vinibuoni d'Italia wine guide
The Auditorium della Tecnica convention centre in Rome will host the presentation of the 2023 edition of the Vinibuoni d'Italia wine guide on Saturday, December 3rd 2022. Vinibuoni d'Italia is the only guide that reviews only Italian wines from indigenous grapes.
A grand tasting of the wines awarded by the guide will be open from 03:00 pm to 09:00 pm. We will present our Oltrepò Pavese Rosso Riserva Anamari 2018, awarded with the Crown top prize by the guide.
For full information about the event, please visit the Vinibuoni d'Italia 2023 website.
---
Name of the event: Presentation of the Vinibuoni d'Italia 2023 wine guide
When: December 5th 2022
Where: Rome
Location of the event: Auditorium della Tecnica convention centre
Address: viale Umberto Tupini, 65
Opening hours: from 03:00 pm to 09:00 pm
Information and on-line tickets: https://2023.vinibuoni.it