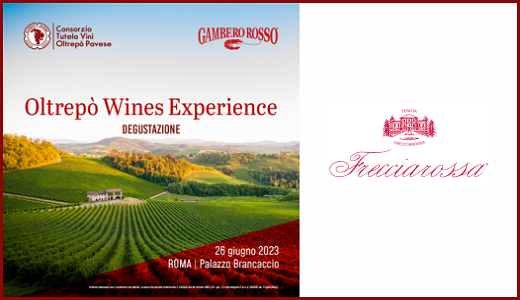 "Oltrepò Wines Experience" tasting by Gambero Rosso
We will present a selection of our wines at the "Oltrepò Wines Experience" tasting organised by Gambero Rosso and Consorzio Tutela Vini Oltrepò Pavese to be held in Rome on Monday, June 26th 2023.
The event, hosted in the garden of Palazzo Brancaccio, will also feature a masterclass by Lorenzo Ruggeri, vice-editor of the Vini d'Italia wine guide, focused on Oltrepò Pavese DOC and DOCG wines.
Access to the event is free, but registration is compulsory. Please visit the Gambero Rosso website.
---
Name of the event: Oltrepò Wines Experience tasting by Gambero Rosso
When: June 26th 2023
Where: Rome
Location of the event: Palazzo Brancaccio
Address: viale del Monte Oppio, 7
Opening hours: from 05:00 PM to 10:00 PM
Information and reservations: https://store.gamberorosso.it