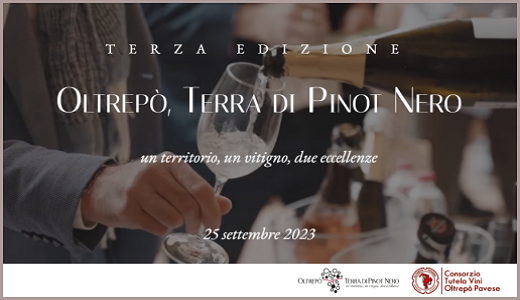 "Oltrepò: land of Pinot Noir" tasting
Antica Tenuta Pegazzera in Casteggio (PV) will host the third edition of "Oltrepò: land of Pinot Noir", a day of tastings dedicated to the Oltrepò Pavese Pinot Noir, on Monday, September 25th 2023.
The event, open from 09:00 AM to 06:00 PM, will include a walkaround tasting featuring reds and Pinot Noir-based Metodo Classico sparkling wines by 34 Oltrepò Pavese wineries (including us) and two masterclasses. The first, led by Jacopo Cossater at 10:00 AM, will provide an in-depth view on the Metodo Classico sparkling wines, while the second, led by Filippo Bartolotta at 12:30 PM, will focus on the reds.
Please check out the link below to know more and to register to the event:
www.terradipinotnero.it
---
Name of the event: "Oltrepò: land of Pinot Noir" tasting
When: September 25th 2023
Where: Casteggio (PV)
Location of the event: Tenuta Pegazzera
Address: via Fratelli Vigorelli, 153
Opening hours: www.terradipinotnero.it
Information and registration to the event: www.terradipinotnero.it