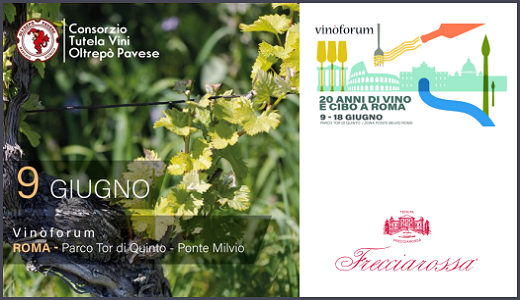 "Oltrepò land of Pinot Noir" tasting at Vinòforum festival
We will present our Pinot Noir-based wines in Rome on Friday, June 9th 2023 at the walk-around tasting dedicated to the "Oltrepò land of Pinot Noir" project that is part of the programme of the Vinòforum festival.
The tasting, organised in collaboration with Consorzio Tutela Vini Oltrepò Pavese, will take place in the wonderful Tor di Quinto park from 07:00 PM to 01:00 PM.
Please visit the Vinòforum website for more information about the event.
---
Name of the event: "Oltrepò land of Pinot Noir" tasting at Vinòforum festival
When: June 9th 2023
Where: Rome
Location of the event: Parco Tor di Quinto
Address: via Fornaci di Tor di Quinto, 10 (Ponte Milvio area)
Opening hours: from 07:00 PM to 01:00 PM
Information: www.lospaziodelgusto.it